2022 WIL Activities
18 November 2022 // Activities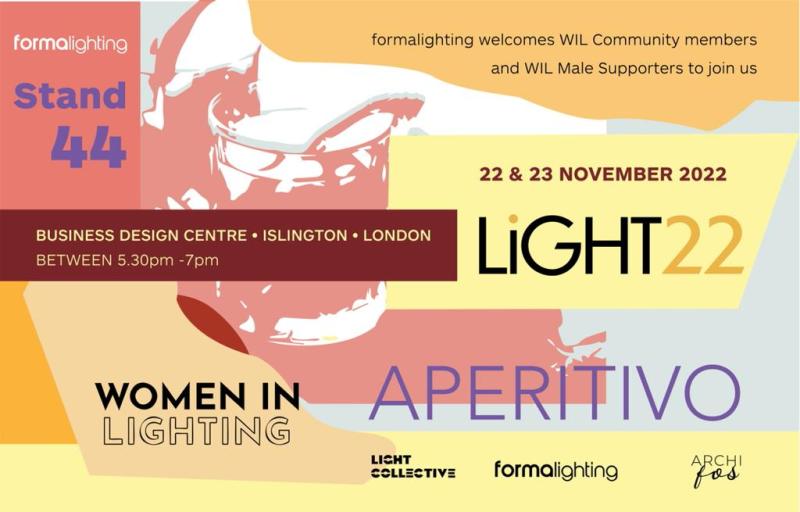 APERITIVO at Light22
22–23 November 2022
Business Design Centre, London
To celebrate the end of the first day of Light 22, formalighting are holding a traditional Italian Aperitivo on their stand for the WIL Community and any WIL Male Supporters - please join us and come and say hello between 5:30pm and 7pm on Tuesday 22nd November.
Also the next day, UK WIL Ambassador Carmela Dagnello is hosting a catch up on 23rd November at 5pm at The Skinny Kitchen, 52 Upper Street, N1 0QH.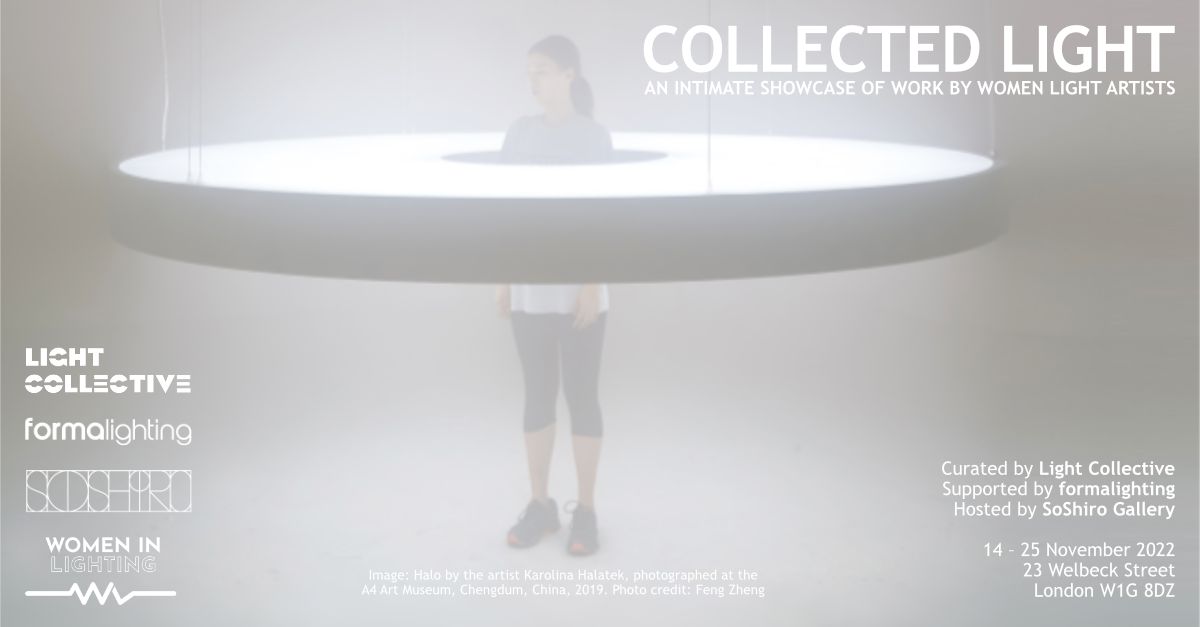 14–25 November 2022
SoShiro Gallery, London
Collected Light Exhibition comprises six artworks created by six different female artists, curated by Sharon Stammers and Martin Lupton of Light Collective and displayed at boutique gallery, SoShiro in London, with the support of formalighting.
This intimate exhibition features a range of mediums, from neon to projection and created between 2019 and 2022. Experience works from Chila Kumari Burman Singh (UK), Jacqueline Hen (DE), Karolina Halatek (PL), Kate McMillan (UK/AU), Lauren Baker (UK) and Tamar Frank (NL).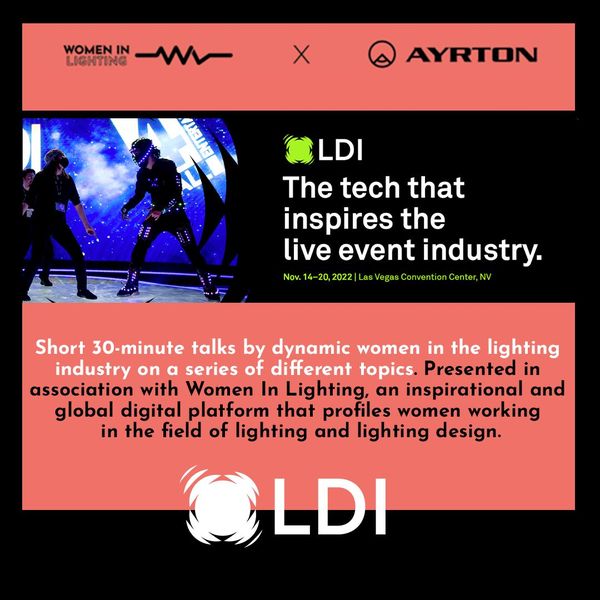 WIL at LDI
18 November 2022, 3:30–5pm
Las Vegas
LDI in collaboration with WIL, will be hosting short 30-minute talks by dynamic women in the lighting industry on a series of different topics!
Amy D. Lux: Considerations For The Built Environment
Paula Dinkel: Find Your Light
Carrie Heisler: Women in Sports Entertainment
About the Speakers & Presentations
Use this promo code for free floor passes for the show - LDI22EHP.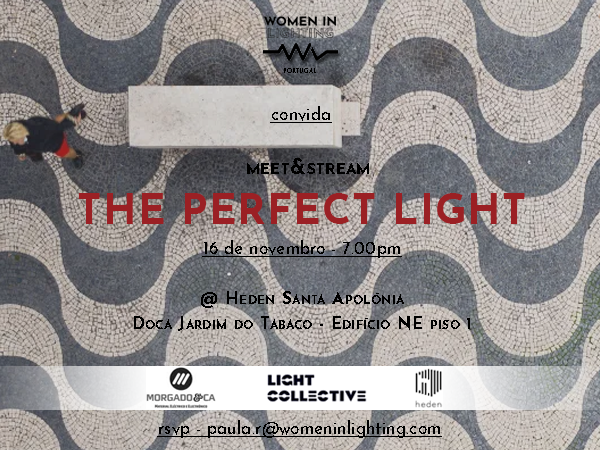 Meet & Stream The Perfect Light
16 November 2022, 7pm
Lisboa, Portugal
WIL Portugal are holding a film night with time to network and chat afterward. The event will take place on 16th November and they will be showing The Perfect Light, a film made in 2017 by Light Collective with Portuguese subtitles. The event is being supported by Morgado & CA, suppliers of formalighting in Portugal.

WIL INDIA at LDA (Light, Decor and Automation) Summit 2022 by ACETECH
10th to 13th November, 2022, Mumbai
Economic Times ACETECH is Asia's leading trade fair for architecture, building materials, art and design, the third-of-its-kind in the world. A unique forum that offers opportunities to not just exhibit, but also to create a long-lasting impression on the decision-makers of the architectural industry. Its sees more than 1,00,000 visitors every year.
The two day WIL INDIA program at the event has a power-packed two days of networking, knowledge sharing, thought leadership and much more…
WIL TALK
Panel Discussion
Lighting Workshop
Exclusive Guided expo tour for Womeninlighting Members
The 10th November has a special high-tea networking and the 11th November, Gala Dinner networking. VIP passes available for any members of the WIL community - contact on the graphic above.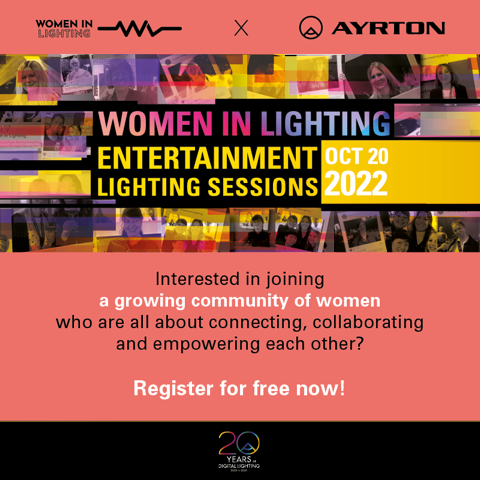 20 October 2022
Online or Ayrton HQ (Paris)
You can join us in person or online for a full day event that offers inspiration, motivation, networking and personal and professional development.
Here's the full program:
9.30 am A special warm welcome at Ayrton Lobby
10 am Introduction from Light Collective and Ayrton
10.30 am Keynote Speaker: Ianina Kovalevska
11.30 pm Keynote Speaker: Briony Berning from Ambersphere Solutions
12.30 pm Catered Lunch & Networking
1.30 pm Keynote Speaker: Akari-Lisa Ishii from I.C.O.N
2.30 pm Keynote Speaker: Cristina Martinez from ACTLD
3.30 pm Coffee Break
4.00 pm Moving Lights Demonstration
WIL Entertainment Meetup
5 October 2022, 5–6pm
LLB Expo Bar, Stockholm
Stop by for drinks at if you are at LLB Stockholm!
17 September 2022, 12–4:30pm BST
Hyde Park, London UK (Meeting Point: Hyde Park Corner, entrance gate)
If you are planning to attend PLASA, please drop by and say hello or share your story with us in a mini interview that will be uploaded to the WIL project website. If you can come along, let us know here.
5 September 2022, 1–3pm BST
PLASA, Olympia, London UK
Everyone old and new to WIL are invited to come together in Central London for a picnic. All are welcome. Bring any food you like for yourself and to share. Please share with colleagues and lighting friends and let us know if you plan to attend here.
10 June 2022, 1pm BST
The WIL Awards 2022 celebrated outstanding women in Light Art, Research and Education, and Engineering. Results was announced live on 10 June 2022.
8 March 2022
The WIL Global Gathering event is an online event to celebrate International Women's Day, the 3rd anniversary of the Women In Lighting (WIL) Project and to connect our growing network and community together.