2023 WIL Activities
12 March 2023 // Activities
WIL GLOBAL GATHERING
8 March 2023
Happy International Women's Day to WIL and WIL Supporters All Over the World! This year the WIL project isn't bringing you an event. Instead, we call upon you to help us create a global gathering of information by completing our survey.
F-ck up lights (WIL Mexico)
8 March 2023
F-ck up lights is a celebration of light, a celebration of WIL Mexico 4th anniversary, a celebration of the international women's day and celebration of being human and making mistakes. 8 light passionates (4 women and 4 men) will tell us in a short period of time, their worst mistakes in the funniest way with the biggest lessons learned.
WIL Lounge at Prolight + Sound
24–28 April 2023
Europe's leading fair for event and media technology, Prolight + Sound 2023 is supporting the Women in Lighting project with the premiere of the "Women in Lighting Lounge" where we will be present in person to record inteviews, discuss the project and continue to draw attention to the achievements of women in the sector and provide impetus for more gender diversity.
More details to follow with a link to sign up to be interviewed! Save this date!
WIL Entertainment
Plasa Show, London, 3—5 September 2023
WIL Entertainment Lighting Sessions, Paris 18 October 2023
LDI, Las Vegas, 3–5 December 2023
Light Collective and/or Ayrton will be present at each of these events. We are looking to connect with Women In Lighting, to share details about the project, to create a speaker register and to ask you to contribute an interview for the project.
Past Events
2 Feb 2023, 3pm
Barcelona, Spain
Women in Lighting Entertainment sponsor - Ayrton Digital Lighting will be exhibiting at ISE 2023 at Booth 7B550. For Free-Entry, please use our invitation code DQXT1SQH on the show website.
WIL Netherlands – NEW YEAR LIGHT WALK
20 Jan 2023, 4pm
Utrecht Central Station, The Netherlands
It's important to get to know your lightminded colleagues and inspire each other. That's why Women in Lighting NL, instituut Lichtontwerpen and I Light U have joined forces and invite you to a NEW YEAR LIGHT WALK on 20th Jan 2023. Curator Bastiaan Schoof and one of the participating artists will introduce I Light U and guide the light art walk, in and around Utrecht Central station and Shopping mall Hoog Catharijne.
* 16:00 - meet in The Green House where we will share a few words about WIL, iLo and ILU with time to chat and grab a drink.
* 17:30 - we will start the Light Walk which will take about an hour.
Utrecht Central Station area hosts a lot of bars and restaurants where you can enjoy dinner with your (new) colleagues after the walk.
Please register by sending an email to Isabel Nielen [email protected] before 15th January 2023.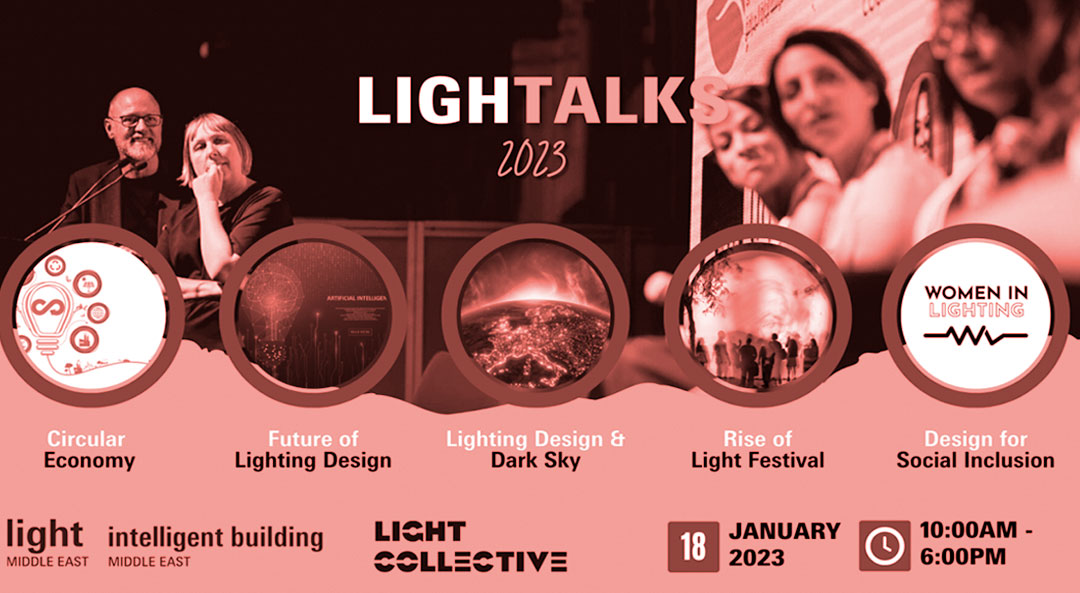 17–19 January 2023
Dubai World Trade Centre
Jan 17th
LME Awards - Shortlisted Products Pitch at the Specifiers Arena with the possibility for Peer Voting as well. Product design panel including WIL ambassador for UAE, Sakina Dugawalla-Moeller. 10am to 2pm at the Specifiers Arena - Who will survive the Lighting Shark Tank?!
Evening: A Trip to Museum of the Future!!!!
Jan 18th
Light Talks hosted by Light Collective. You can find the full program here, culminating in a special WIL session: Design for Social Inclusion Panel Discussion presented in Pecha Kucha style with each contributor presenting their experiences, knowledge and real-world examples of socially inclusive designs. Panelists include:
Cherine Saroufim - IDEPCONSULT, WIL Lebanon
Momena Saleem - WIL Pakistan
Dipali Shirsat - Delta Lighting Design, UAE, WIL R.A.W. blogger
Katia Kolovea - WIL team, Archifos, UK
Dalal AlSharhan - DAL Studio, WIL Kuwait
Surbhi Jindal - Da Light Hub, WIL India
Look out for a special Light and Health session with WIL Mexico ambassador, Magali Mendez Details to come.
Jan 19th
The 16th edition of the LME Awards, a Gala dinner at the Ritz Carlton.
Also at the show, WIL partner, The Virtual Lighting Design Community will be conducting a series of live interviews in the Premium Club which will be live streamed. More info on this to follow.