Collected Light – London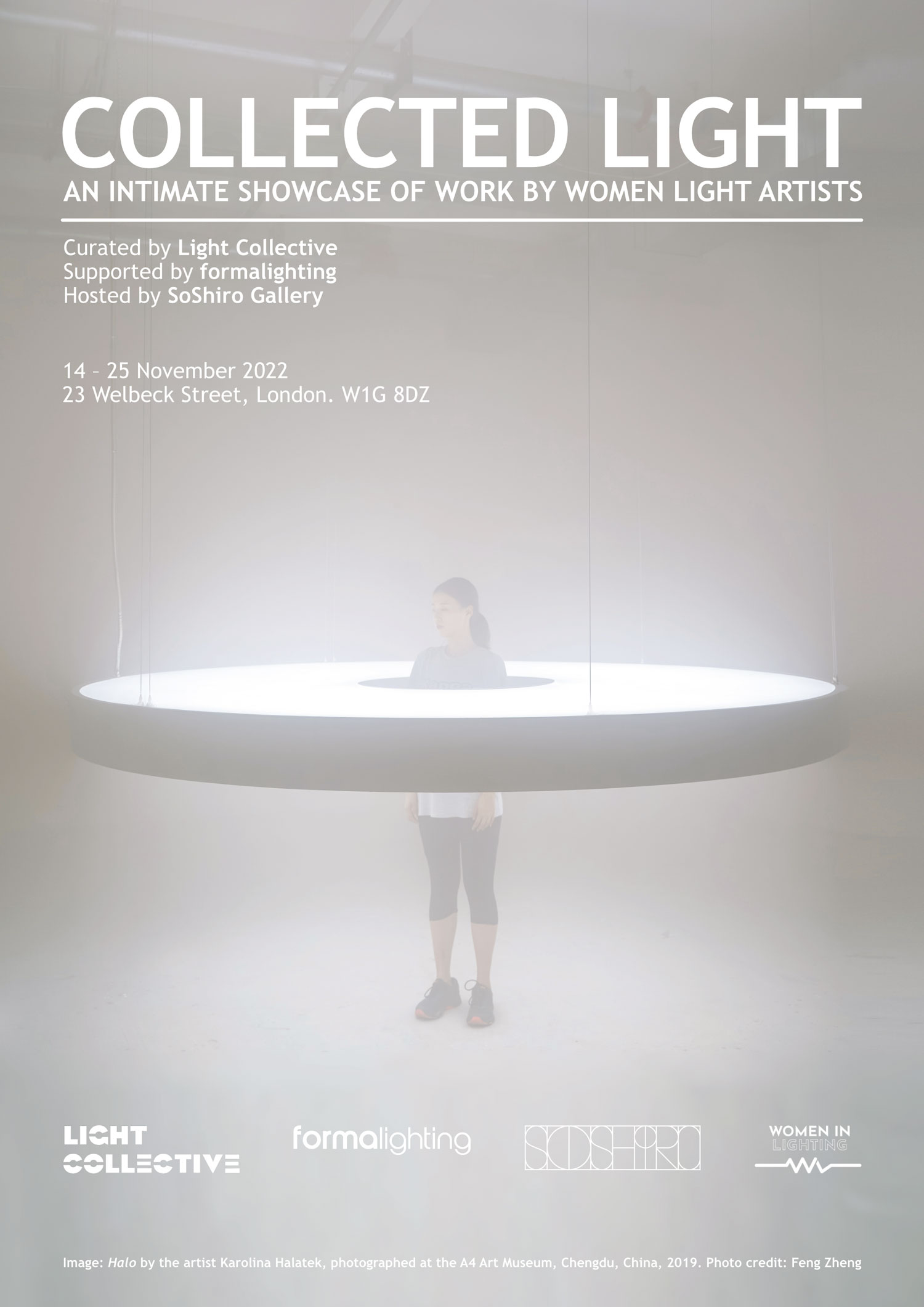 Collected Light Exhibition comprises six artworks created by six different female artists, curated by Sharon Stammers and Martin Lupton of Light Collective and displayed at boutique gallery, SoShiro in London, with the support of formalighting.
This intimate exhibition features a range of mediums, from neon to projection and created between 2019 and 2022. Experience works from Chila Kumari Burman Singh (UK), Jacqueline Hen (DE), Karolina Halatek (PL), Kate McMillan (UK/AU), Lauren Baker (UK) and Tamar Frank (NL).
SoShiro Gallery
23 Welbeck Street, London W1G 8DZ
14th–18th November 2022: Invited guests only
19th–25th November 2022: Ticketed entry
Collected Light is part of the Women In Lighting project and the start of the creation of a permanent collection made up solely of women light artists. After London, the exhibition will tour to other cities with the addition of more women light artists.
The Artists
Chila Kumari Singh Burman is celebrated for her radical feminist practice which examines representation, gender and cultural identity. She works across a wide range of mediums including printmaking, drawing, painting, installation and film.
Born in Bootle, to Punjabi-Hindu parents, she attended Southport College of Art, Leeds Polytechnic and the Slade School of Fine Art. A key figure in the British Black Arts movement in the 1980s, Burman has since remained rooted in her understanding of the diverse nature of culture. Continually seeking to break stereotypes and emancipate the image of women, she often uses self-portraiture as a tool of empowerment and self-determination.
Jacqueline Hen is an Artist and Spatial Designer working on large-scale performative installations and environments.
Her works investigate the perception of body and space in the intersection of physical and digital habitats. She was awarded with the International Light Art Award 2019 for her work Light High.
She was appointed "Meisterschülerin" at the University of the Arts Berlin in 2019.
Read WIL R.A.W blog's interview with Jacqueline.
Karolina Halatek is a Polish artist who uses light as the central medium in her work to create experiential site-specific work.
Seeing her work primarily as a catalyst for experience, Halatek's installations have remarkable immersive characteristics which are often the result of collaborations with quantum physicists, founders of the superstring theory (Leonard Susskind, Roger Penrose, Carlo Rovelli) and precision mechanical engineers.
Read Karolina's Interview on WIL.
Dr Kate McMillan is an artist based in London. She works across media including film, sound, installation, sculpture, and performance. Her work addresses a number of key ideas including the role of art in attending to impacts of the Anthropocene, lost and systemically forgotten histories of women, and the residue of colonial violence in the present. In addition to her practice, McMillan also addresses these issues in her activist and written work. She is the author of the annual report 'Representation of Female Artists in Britain' commissioned by the Freelands Foundation.
Her recent academic monograph 'Contemporary Art & Unforgetting in Colonial Landscapes: Empire of Islands' (2019, Palgrave Macmillan) explored the work of a number of first nation female artists from the global south, whose work attends to the aftermath of colonial violence in contemporary life. McMillan is currently a Senior Lecturer in Creative Practice at King's College, London.
Lauren Baker is a British contemporary multidisciplinary artist who exhibits internationally. Her work explores human connections, metaphysics and the expansiveness of the universe. Lauren's signature neon works portray the power of energy through her poetic typographic and celestial chakra artworks. Passionate about environmental issues and sustainability, Lauren uses light to express the 'secrets of the universe' and aims to raise the vibration of love and connection within the world.
Lauren's work involves making the unseen seen and her visual style is often built around either emitting or reflecting light. Many of her pieces directly reference the frequencies emitted by astronomical bodies, as well as those attributed to plants, human organs and chakras.
Born in 1974 in Amsterdam Netherlands Tamar Frank graduated in Fine Arts/ Monumental Design in 1997 at the Fine Arts Academy in Maastricht. Using light as a medium already started during her studies and she presented her first light installations at her graduation show.
With focus on public space and light Frank established a name in the light art. Her biggest commission to date is for two towers of a residential building West Pender Place in Vancouver which was completed in 2011.
In 2019 she released a book 'Lightspace 20 years Tamar Frank' A retrospective of all her work from 1997 to 2017.
Read WIL R.A.W blog's interview with Tamar.
The Artworks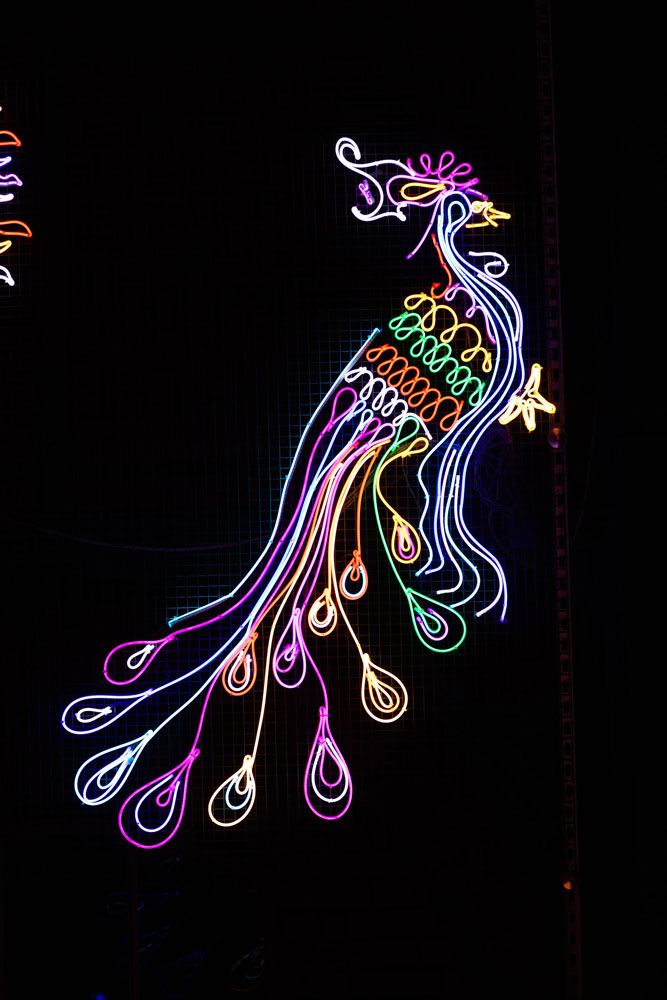 Peacock, 2020 by Chila Singh Burman: Burman is celebrated for her radical feminist practice which examines representation, gender and cultural identity. Peacock was part of the hugely popular neon installation on the exterior of the Tate Britain 'Remembering A Brave New World' in 2020. She explains "my Peacock piece explores the birds' symbolism of re-growth, rejuvenation, beauty and love. The peacock is native to the Indian subcontinent, in this way it is also a reference to my Indian heritage." Burman works across a wide range of mediums including printmaking, drawing, painting, installation and film.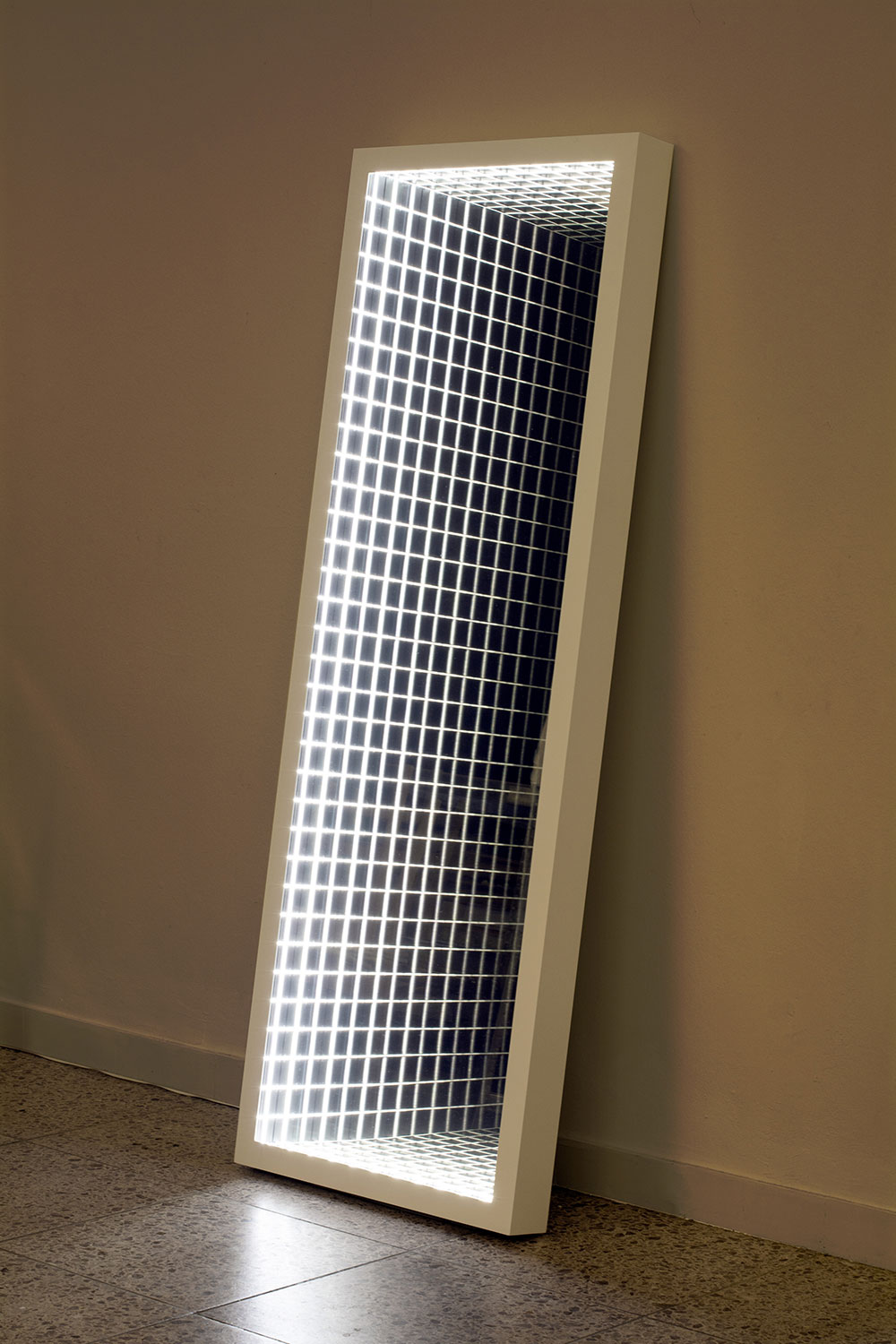 Off Grid Series, 2022 by Jacqueline Hen: This installation investigates the perception of the body in space in the face of the digital realm. How is social media influencing our perception and interaction with the physical space? Mirrors and an arrangement of lights create the illusion of an infinite space of luminosity and darkness. The perception of this space changes with the viewer's perspective inviting them to investigate their self within infinity.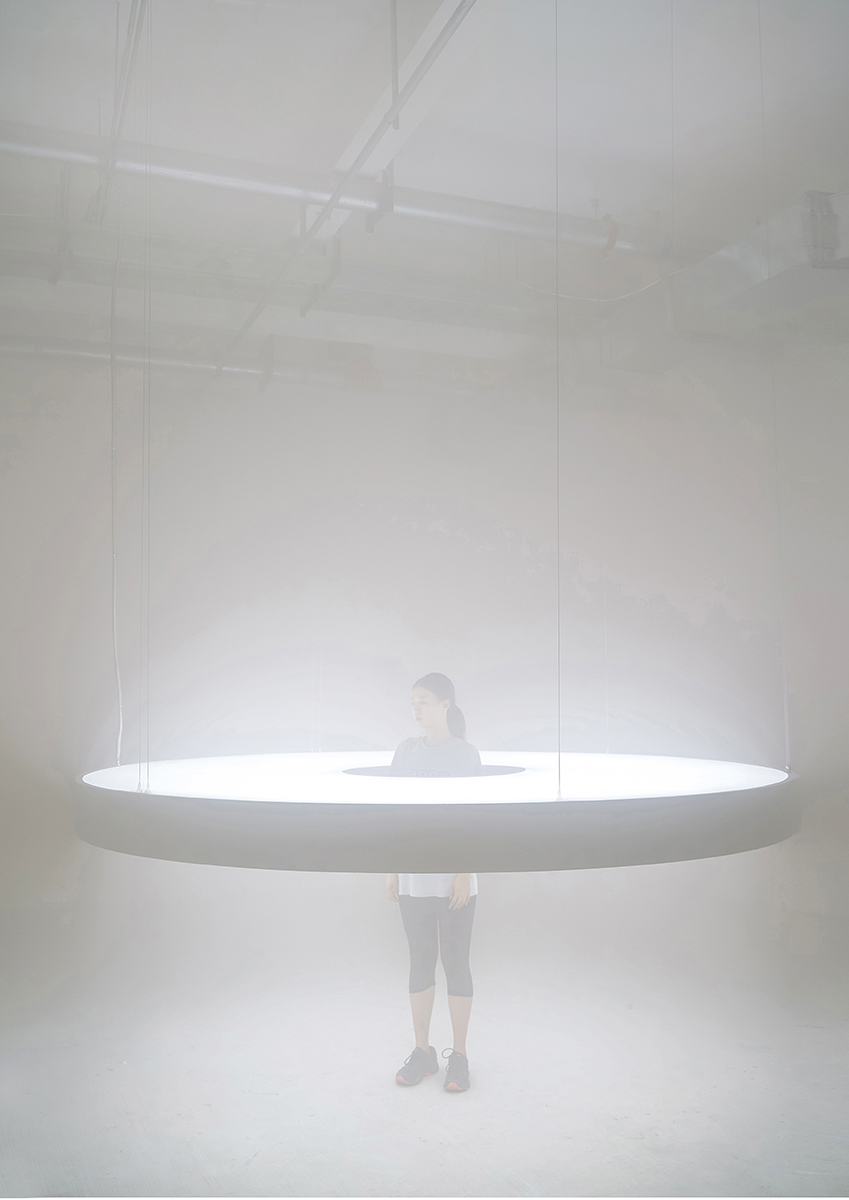 Halo, 2019 by Karolina Halatek: The circular-shaped immersive installation is designed to draw out a very personal experience. Visitors interacting with the work have the possibility of discovering a new dimension of their own presence in the contemplative, pure and abstract environment. The title 'Halo' refers to the natural optical phenomena seen around the sun or moon, produced by light in the interaction of ice crystals. The place of the celestial body is given to the art viewer, who becomes a central part of the piece. Halatek is a Polish artist who uses light as a catalyst for experience. She often collaborates with non-artists including quantum physicists, founders of the superstring theory (Leonard Susskind, Roger Penrose, Carlo Rovelli) and precision mechanical engineers.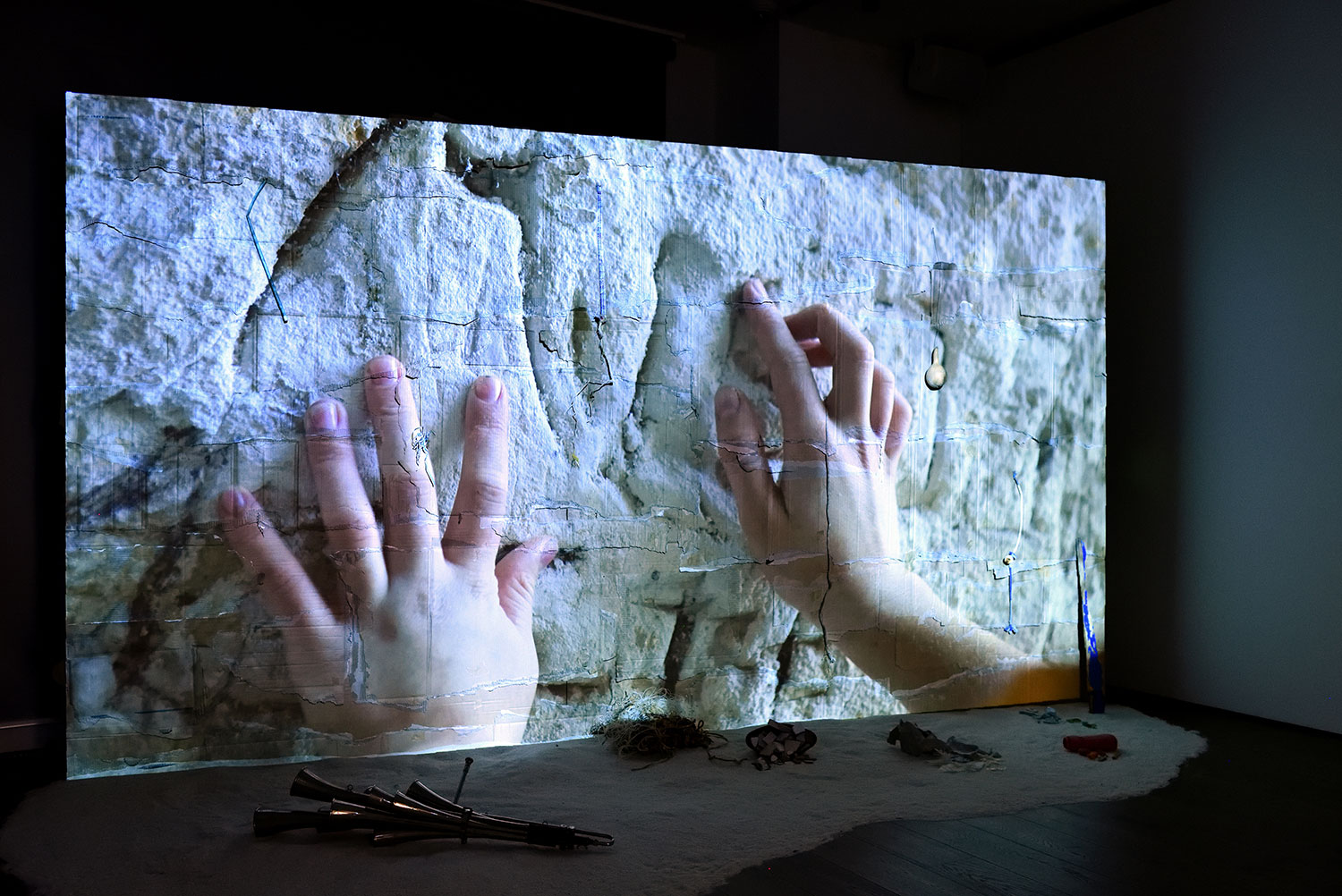 The Lost Girl, 2020 by Kate McMillan: The Lost Girl is an immersive film-based installation centred around the fictional character of a cave-dwelling girl on the east coast of England. Using DH Lawrence's book of the same name as a starting point, the film narrates the experiences of a young woman seemingly alone in a dystopian future, with only the debris washed up from the ocean to form meaning and language. The film combines McMillan's various research interests including the Anthropocene; the role of creativity in forming memory and the consequences of neglecting female histories. McMillan is based in London and is the author of the annual report 'Representation of Female Artists in Britain' commissioned by the Freelands Foundation.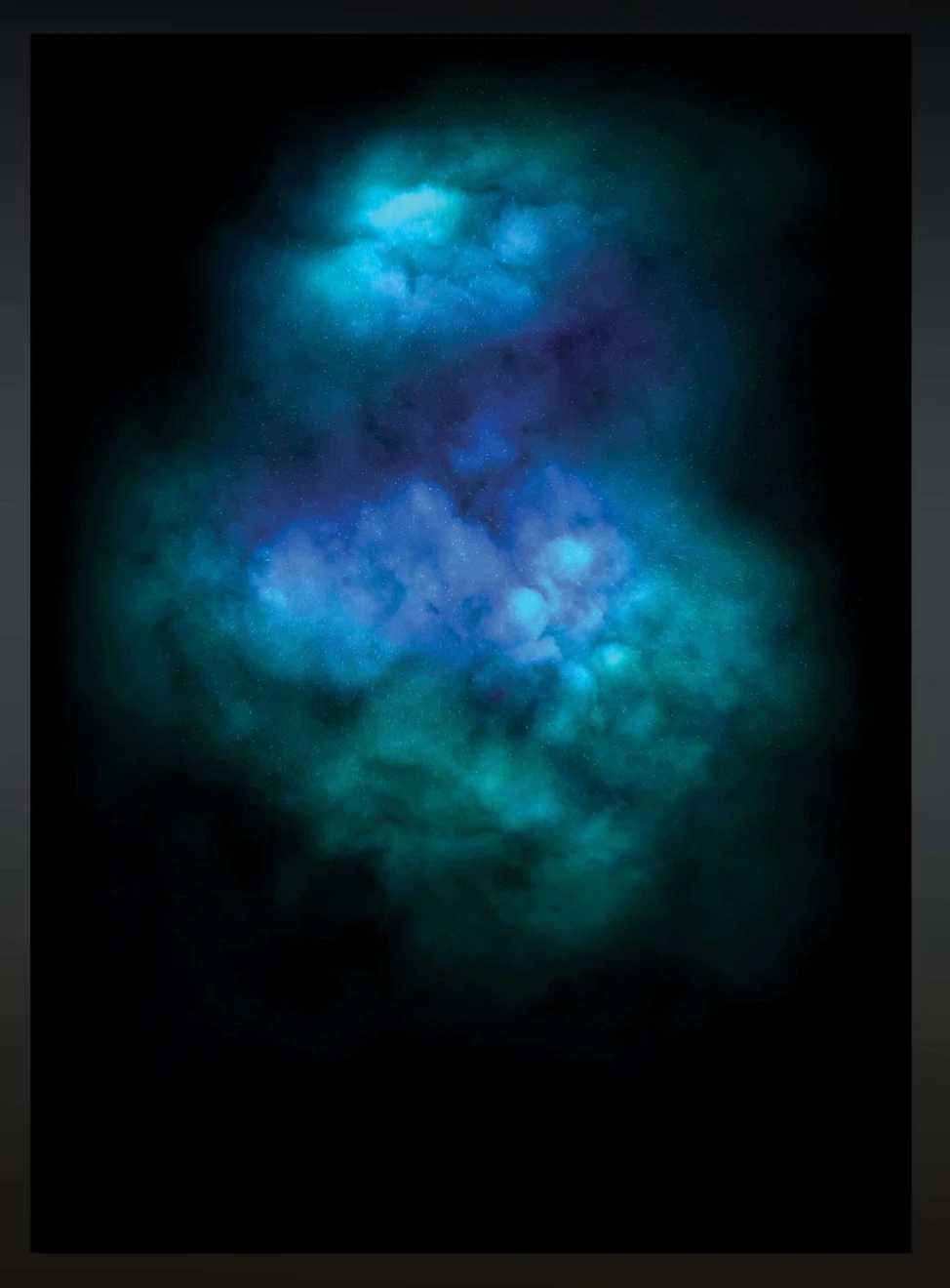 Stardust - The Deep Field (Lenticular), 2018 by Lauren Baker: A six-image lenticular backed by an LED light box, described by Baker as depicting 'a galactic explosion of shooting stars and space matter'. Because of the way the lenticular lenses shift how the images are perceived, moving past the artwork brings it to life: suggesting a celestial dance of explosion and implosion, separation and unison, change and repetition. The artwork depicts a galactic explosion of shooting stars and space matter, inspired by the findings of the Hubble telescope. Hubble's glimpse into what is known as the deep field has highlighted that we are just one tiny part of a vast system comprising of 100 billion galaxies. As people walk past, the 6 images appear and merge into one another from different angles, creating a moving image of an exploding star.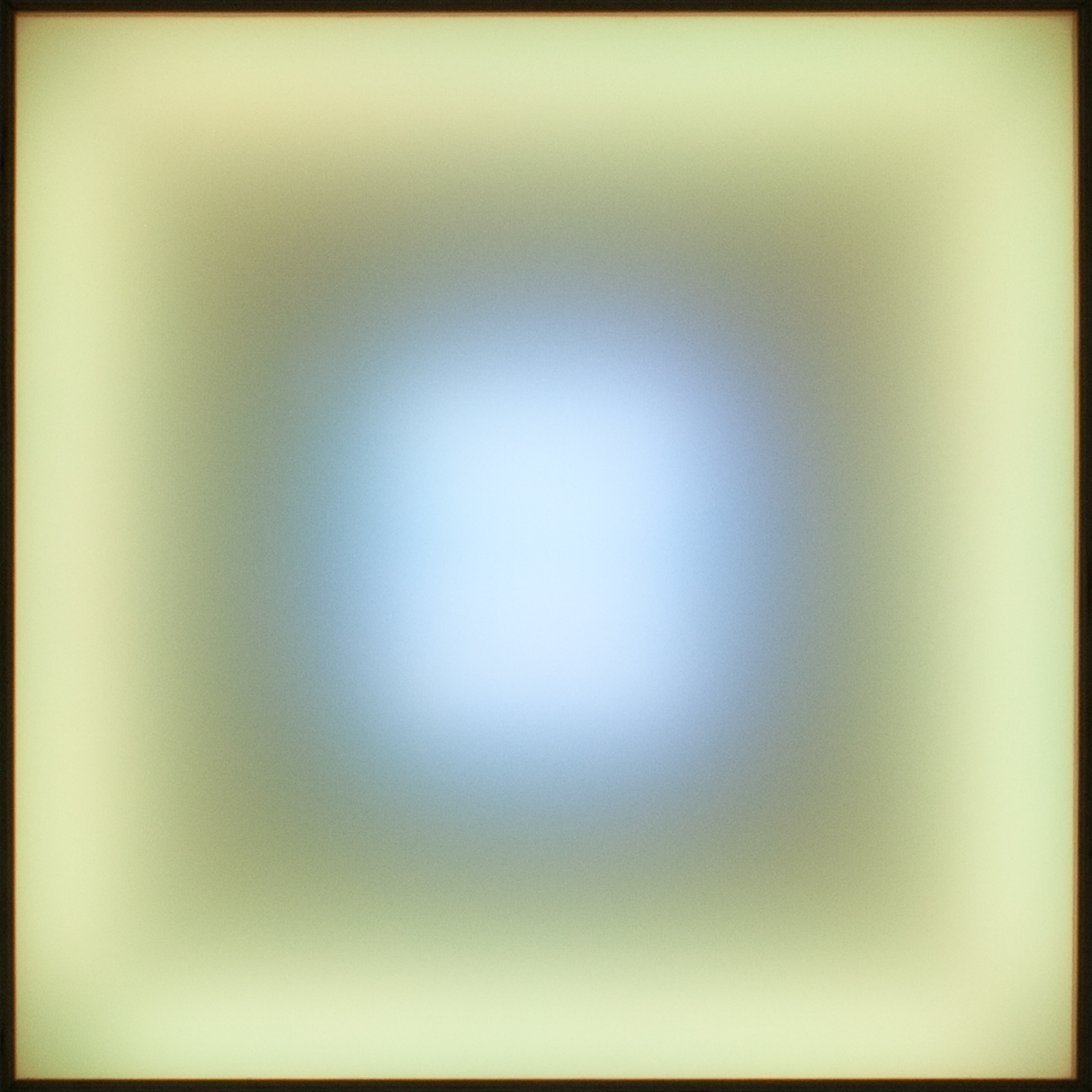 In Lucem, 2019 by Tamar Frank: A series of 20 small light panels illustrate – 4 of which are on display at this exhibition- a seemingly still image with a central focus that gradually blends into different colour compositions. The colour gradients are inspired by the changes in natural light over the course of one day and change very slowly so that the transition itself is not perceived. The artwork is a response to the perception of light as a natural presence. The central focus invites the spectator to slow down and allow the light to draw the viewer in. The diffusion of the image does not allow the eye to focus. As a result, the image will appear to pulsate and float.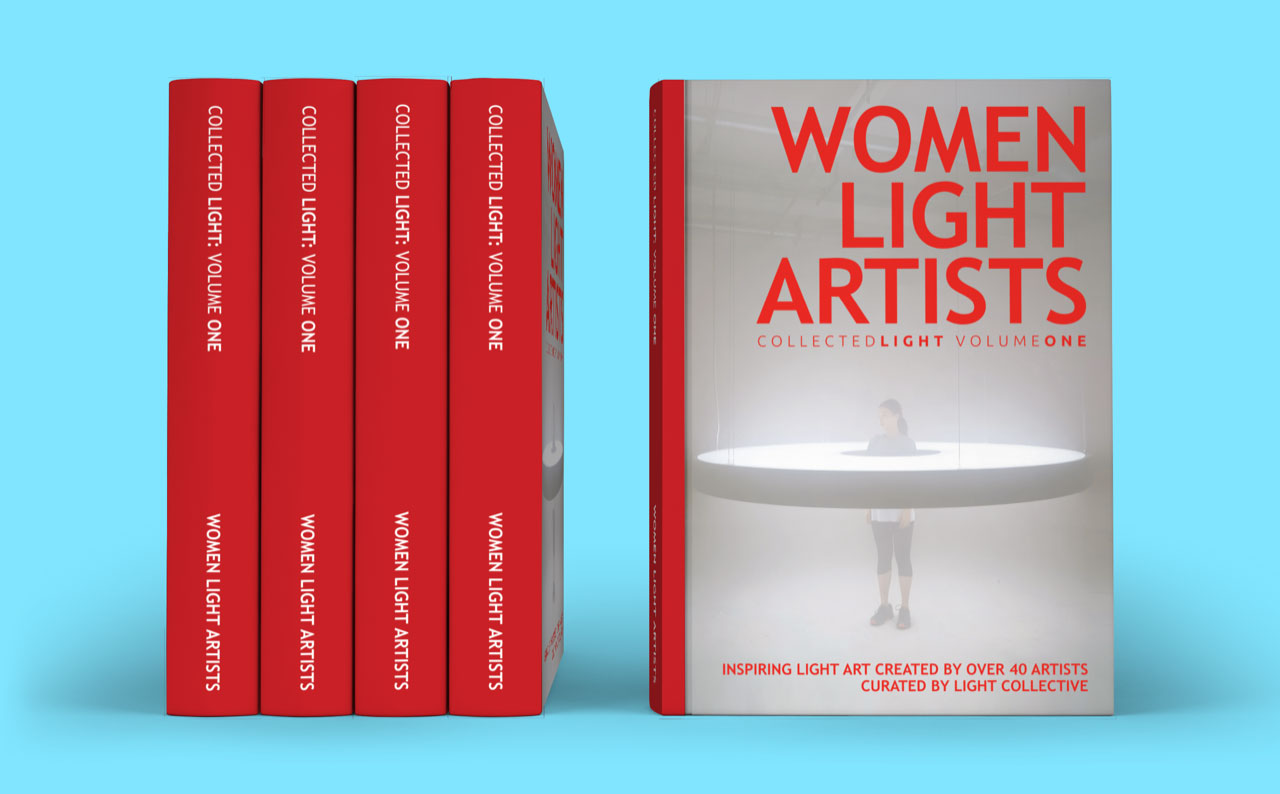 All the artists are featured in a new book Collected Light Volume One: Women Light Artists also curated by Light Collective.
Reviews & Photos
"The works are very varied, with different presentations, effects and experiences throughout the exhibition. Thank you very much for formalighting for hosting us and for the lovely gift bag! Brava Women in Lighting, Light Collective! I can see how much work has gone into this showcase to promote women artists. Wonderful work, as always! ❤️"
Rachel Flint - MGA
"Tangible moments of light" Thank you for such an inspiring Tuesday morning of breakfast and art formalighting. Marina Pippi and myself went to see the Collected Light exhibition at SoShiro gallery. We celebrated the work of women light artist, and also got to support Light Collective with the launch of their book. Great to see the incredible things happening in the lighting industry again. Cannot wait to see what's next."
Shevokie Allen - Nulty
"A quite lovely evening. Thank you so much for the invite Light Collective. Congratulations on this exhibition and of course the new book. The gallery space is glorious. Enjoy the rest of the week with your daily Collected Light sessions, sprinkling the week in some much needed light and joy."
April Dorrian - The Light Retreat
"Immersed in a little enlightenment, inspiration and intellectual indulgence after work last night. Big thanks to Light Collective and FORMA LIGHTING (ITALIA) S.R.L. for the invitation to the #CollectedLight book launch and exhibition private view at SoShiro gallery. It's invigorating to see so many outstanding women light artists around the world showcased besides Tracey Emin and Liz West.
Great talk by the artist Karolina Halatek. HALO is mesmerising!"
Florence Lam - Arup
"About tonight…. thanks formalighting and Light Collective for a wonderful treat of an evening. Collected Light is a showcase of work by women light artists, presented in the intimate setting of SoShiro gallery. The exhibition was curated by Light Collective with the support of formalighting as part of the Women in Lighting project."
Juan Ferrari - Hoare Lea
"Huge thanks to formalighting, Light Collective and Women In Lighting for the invite to the opening night of their Collected Light exhibition, celebrating the amazing work of women light artists, and the launch of their very cool new book! Great to see some wonderful works of light art up close and personal."
Matt Waring - arc magazine
"If you haven't already been, the #collectedlight art exhibition at the SoShiro Gallery is a fantastic curation of works by women light artists, brought together by @lightcollective and formalighting."
Daniel Green - Into
"A collection of pieces by women light artists, curated by Martin and Sharon at @LightCollective and enthusiastically supported by formalighting.
And if you do have the time... and the patience... here's a musing:
If Art is a distillation of the human condition and Light is, most commonly, simply the carrier of that distillation - from Art piece to eye/brain - what happens when Light becomes the Art medium?
This is a show that requires a resetting of the neural network"
John Bullock - The Light Review
"It was an incredible show."
Marcus Steffen - MS Lighting
"Thanks so much for such inspiring night, surrounded by beautiful light installation and amazing company ✨️ Having the opportunity of looking at these beautiful light art at SoShiro was such a blessing!"
Arianna Ghezzi - LDI
"We are proud supporters of Women In Lighting, and having just run a series of Women Lighting Engineer profiles in the Lighting Journal magazine, now its great to see Women Light Artists being celebrated in the wonderful new book 'Collected Light'. There's a mix of people you will know from ILP events, super famous artists, and new faces to be inspired by. Well done Sharon Stammers and Martin Lupton on the fantastic book which is making its way to the ILP library. Special mentions to Chila Kumari Burman Liz West Sabine De Schutter Frankie Boyle April Dorrian Sharon Maghnagi Nancy Kukukhil for spreading the joy of light art. Congratulations all round."
Jess Gallacher - the ILP
"Just a quick message to say thank you for yesterday! What you did for WIL is truly amazing! it's very inspiring to see in person such artwork and hear the female artist talk! It's empowering! However, me being me I think i most connected with the lost girl in the top floor room"
Greta Smetoniute
"Mind totally blown by all of the talent and passion that has gone into the #CollectedLight exhibition! We had a fantastic time last night and cannot thank SoShiro Gallery, Sharon Stammers, Sharon Maghnagi, Martin Lupton, Ettore Lecchi, and the rest of the team for organizing. And thank you to Jacqueline Hen for discussing your artwork with us; there's definitely a trip to Germany in the near future to see it in person!"
Kael Gillam - Hoare Lea
"Anyone that knows me knows I ❤️ light art, and enjoy seeing it as much as I can. Yesterday I had the privilege of seeing the #collectedlight exhibition by Light Collective & Women in lighting. 6 beautiful exhibits all by fabulous female light artists. They were all amazing"
Mig Burgess - ABTT
"I've just came back from London where I had the pleasure to loose myself in the luminous atmospheres of the exhibition #collectedLight #womeninlightartist, deeply wanted by the brilliant minds of Sharon Stammers and Martin Lupton , supported be Formalighiting and hosted by Soshiro Gallery. Every time I immerse myself in the work of artists who use light as a primary expressive medium, I always see something new and magical that enriches my visual memory. It is fantastic to meet live for the first time people known only virtually in the past three years, thanks to the #womeninlighting community, and to see colleagues with whom it is important to connect, even just to celebrate."
Giorgia Brusemini - WIL Italy
"Massive thank you to Light Collective and formalighting for such a wonderful and influential evening, celebrating women light artists and showcasing beautiful art pieces at SoShiro gallery!"
Agata Tyburska - Light 360
"It was a beautiful evening."
Seraphina Gogate - Cundall
"I really enjoyed the Collected Light exhibition and launch, and I never dreamed I would ever have lunch with Chila Burman! It feels almost like I dreamt the day. The book is utterly inspiring and a joy to dip in and out of. It will eventually be kept in the library of the Institution of Lighting Professionals for members to read... but selfishly I'm hanging onto it for a few more weeks yet until I have savoured every page. The ILP has always been happy to support the Women in Lighting initiative, and we wish the movement every success as it continues."
Jess Gallacher - ILP
"I'm proud to be part of this well curated group of innovative females. The level of creativity and standard of work is beyond. It's super cool to highlight women working in lighting."
Lauren Baker
"SoShiro, una galería íntima y especial para mostrar el trabajo lumínico de seis artistas mujeres. Gracias Difusiona por organizar la visita y a Light Collective por la curadoria."
Esther Torello - Lightecture
"A unique experience at the SoShiro last week at the Collected Light exhibition! Thank you Light Collective and all women in light art!"
Anna Sbokou - AS Light
"It was really nice to meet everyone and what a stunning venue too! A beautiful showcase all around."
Amy Griffiths - Nulty
Supporters
FORMALIGHTING
Unifying formalighting's heritage and principles, with their wealth of experience in lighting museums and galleries, it is a genuine privilege for formalighting to be supporting Light Collective with the Collected Light exhibition and inspiring book launch.
The future of light is moving, and formalighting are proud to have innovated the world of motorized remote controlled lighting through its MOTOLUX range, a pioneering solution for aiming and focusing light, perfect for museums and galleries. MOTOLUX is used throughout the SOSHIRO gallery.
SOSHIRO
Founded by designer and creative director, Shiro Muchiri, SoShiro is a collaborative platform, consultancy, event space and shop that nurtures, celebrates and communicates our artistic and cultural diversity. It is SoShiro's mission to bring the richness of the world's art, design and craft into the popular imagination in a way that is exciting, relevant and mutually beneficial to all.
Press
Collected Light, exibart.com
Light Work, FX 330
Collected Light, arc Issue 131
Collected Light: An Experience in Storytelling with Light, designing lighting (dl) magazine, DEC 2022
A review of COLLECTED LIGHT, London 2022, The Light Review, 18 Nov 22
12 of the most exciting new art exhibitions in London to see this winter, The Glossary, 9 Nov 2022
HAPPENINGS IN MARYLEBONE, MARYLEBONE JOURNAL, ISSUE NO.97
Introducing the Artists Who Are Part of Collected Light, design lighting, 11 Oct 2022